Dental and Vision Insurance
Dental & Vision Coverage Options For Medicare ELIGIBLE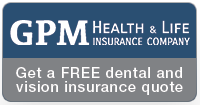 GPM HEALTH & LIFE DENTAL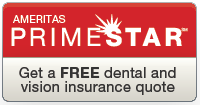 AMERITAS PRIMESTAR DENTAL

PROTECTOR PLUS DENTAL
Does Medicare Cover Vision and Dental?
Medicare covers some aspects of vision and dental care, but for the most part, dental and vision are not covered. Some Medicare Advantage Plans (Part C) or third-party vision or dental insurance carriers can cover these Medicare gaps in coverage.
What You Need to Know About Dental Care Under Medicare
Medicare Part A may cover certain dental services that occur during an inpatient hospital stay if you require an emergency or complicated dental procedure. This includes acute care hospital stays, inpatient rehabilitation facility stay, or long-term care hospital stay.
Routine dental care including dental procedures, supplies, tooth extractions, dentures, dental plates, or preventative dental care including exams, x-rays, cleanings, or fillings is not covered under Medicare.
Medicare may pay for dental care that is required to diagnose or treat an illness
What You Need to Know About Vision Care Under Medicare
Medicare does not cover routine vision care including regular eye exams, glasses, lenses, or contacts.
Medicare Part B may pay for vision exams or eyewear that are related to specific illnesses or surgeries including cataracts, diabetes, or macular degeneration.
Medicare Advantage Plans (Part C) and some Medicare Supplement plans may include vision coverage or assistance with vision co-payments.
Hearing Coverage Under Medicare
Medicare Part B does cover hearing exams as part of routine physicals or to diagnose an illness and may cover a bone-anchoring hearing aid (BAHA), which is listed as a prosthetic device, not a hearing aid. Medicare does not cover hearing aids or fitting for hearing aids. Under Medicare Advantage Plans (Part C), the coverage for hearing or hearing aids varies. If you are a Veteran, even if you do not have retirement benefits, you may qualify for a hearing exam and hearing aid coverage. If you require a hearing aid, make sure you enroll in a plan that covers your costs.
How to Obtain Dental Coverage Under Medicare
Medicare does not cover routine dental services, nor does it cover dentures. In some instances, Medicare may cover tooth extraction or some dental services that are performed to diagnose or treat a disease.
To get dental coverage under Medicare, you have a few options. Select a Medicare Advantage Plan that includes dental services and/or dentures. Or, you can use traditional Medicare and purchase stand-alone dental insurance. You can join your spouse's dental insurance plan if they have it, or you can seek out community pay-for-service dental clinics.
For dentures that aren't covered under most dental insurance plans, seek out denture companies that offer discounted rates or special deal for seniors.
At Medicare Plan Solutions, we work with several providers in your area to create the best coverage plan for you. Connect with us to get the coverage you need.